StudioEase
The main menu is your central navigation tool. You can specify several system wide preferences, such as network operation, language setup, user password, graphic display options, and integration of user files. Although forms can be customized for any language, StudioEase comes complete with ready to use printing templates in English, German, French, Spanish, and Italian.
The projects module keeps track of your recording sessions and lets you move to, or create new records in, related modules, such as archive, invoicing, track sheet, etc. with a click of the mouse. Session time is logged automatically. Using the extended mode, you can define individual project charges which are automatically summed into an invoice upon project completion. A variety of customizable print forms for clients and in-house use are provided.
The archive module keeps track of your tape libraries and work information. Features complete credit listings, live performance logging, any number of selections per record (for example film cues, or classical movements), and export in a number of formats for further editing. Using a link to the label print module, you can easily create media labels for your library.
The inventory module keeps track of your equipment. You may be happy to just keep basic information, such as purchase date, price, and serial numbers. But the inventory also lets you check the remaining book value (if you are writing off equipment against taxes), check the wiring requirements to aid in wiring new racks, and alert tech personnel to equipment problems. You can also export records to a number of formats, including HTML tables for publishing your inventory on the web.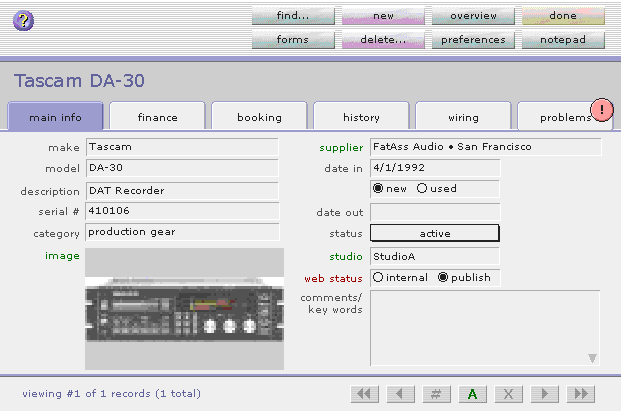 The calendar module keeps track of appointments and booking information for any number of studios or suites. Zoom in on a daily layout for detailed notes or zoom out to a weekly overview, or even further for quick navigation to any week or date. The calendar can be set to open automatically when StudioEase (or your computer) is started.
The contacts module is your name and address database. In addition, it lets you create a number of forms, such as quick faxes, envelopes, send email and connect to user's websites. Using the flexible grouping functions, you can create a variety of mailing lists. Mailing labels are supported in both US letter and A4 letter sizes. Contacts supports your company logo and scanned, handwritten signatures for faxes sent from your computer.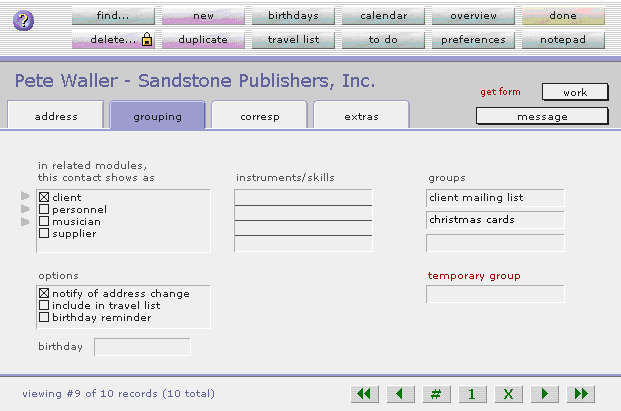 The audio tools module includes a comprehensive set of production calculators and utilities, such as rhythmic delay time calculation, complex matching of tempi, or creating groove quantization grids from drum loops. Utilities include a handy reference on audio terminology and orchestral instruments, MIDI note and patch number conversions, and much more.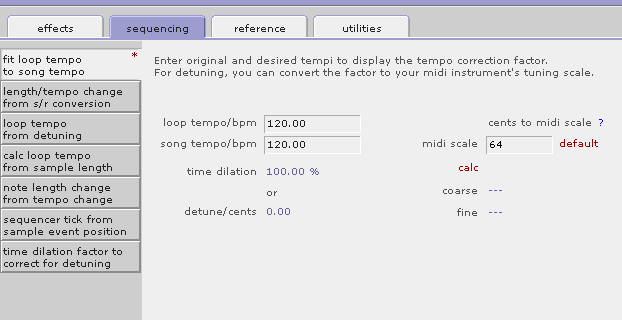 If you are tired of searching through stacks of CD's every time you are looking for a sound, the sound library module helps you organize your growing collection of sample CD's, CD ROMs etc. Using your own keywords, you can quickly recall and group records and list your favorites at the top of the list. If you are recording your own sounds, you can also enter recording details, such as the mic setup, performer and instrument, and multisample details. A mass import function lets you import entire hard disks as individual records and play each sound directly from within StudioEase.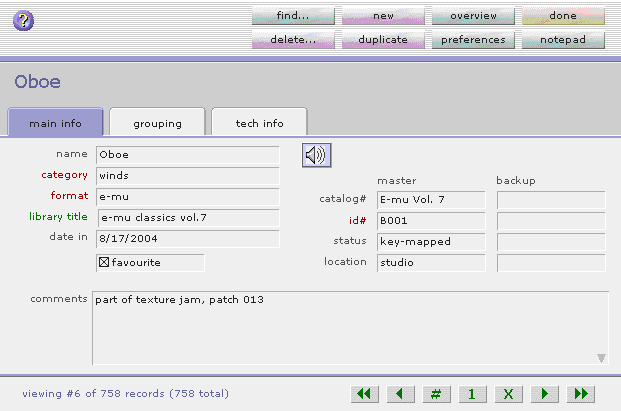 The invoicing module makes creating invoices a snap. Set up your default text once (or use one of the provided multi-lingual templates) and let invoicing prepare the form for you. You are automatically reminded of overdue accounts, and appropriate notices can be sent with only a few mouseclicks. You can select your tax period (monthly, quarterly, yearly), and instantly check your income by period and/or client.
The budget module lets you specify a project budget and display the remaining amount. Budget calculations can be printed or faxed to clients. Chargeable items can be entered in any order, they are automatically grouped when printed. In addition, two levels of quantity discount can be applied automatically.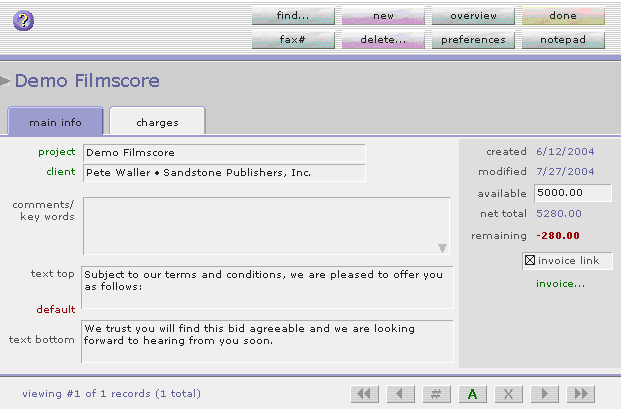 The supplies module holds a catalog of the goods and services your facility offers. You can pull items for budget calculation or invoices, and specify two automatic discount levels based on quantity.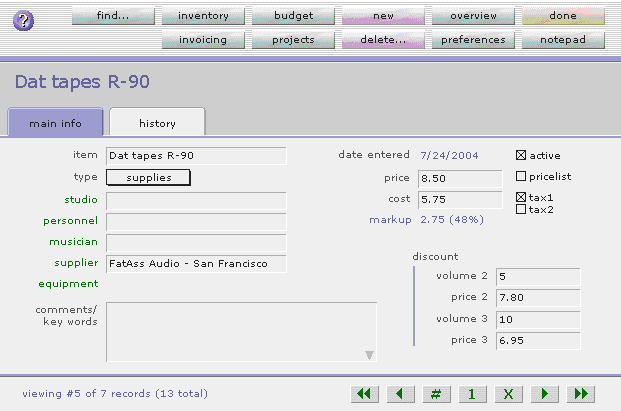 The cue sheet module lets you create cue sheets for film/TV applications. Cue sheets can be distributed to users who do not have a copy of StudioEase using CueImport, a supporting software available for free from rootsolutions. Automatic collection of source cues for registration purposes is provided and a special mini-view lets you keep the window open on a single monitor setup while working with your sequencer in the foreground.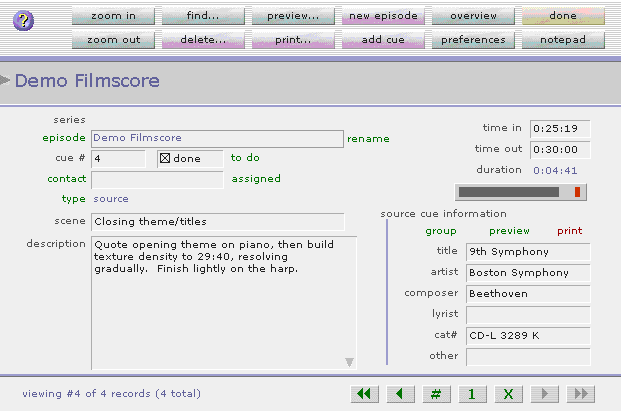 The lyrics module lets you create and maintain lyric sheets for your projects. Normal and extra large printing templates for vocalists are provided. Just like other modules, lyrics can be called up from the related project entry with a click of the mouse.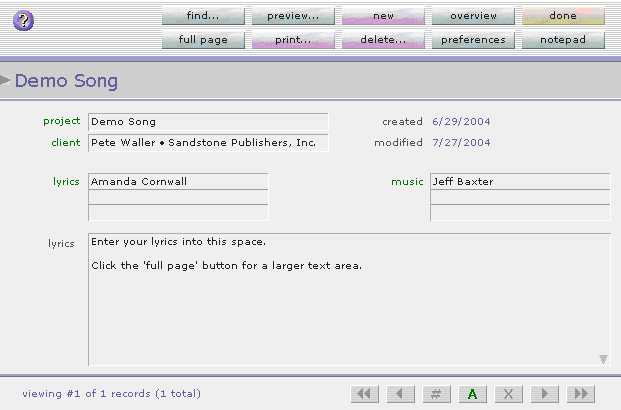 The label print module lets you create neat looking labels for most media types and TT patchbays. With a link to the archive and sound library modules, creating labels is quick and easy. In addition to the track listing, labels include your company logo, copyright info, copy type (such as 'original master', 'safety copy', etc), and date.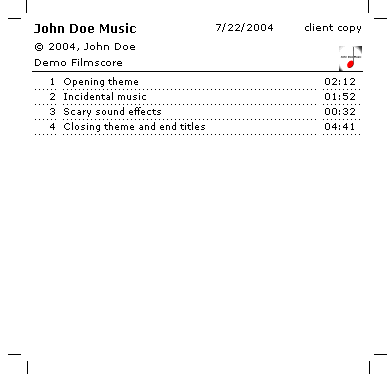 The track sheet modules lets you maintain tidy tracksheets for your multitrack sessions. Log track information on screen and print them for inclusion in the media box. In addition, you can make notes of effect and console parameters, as well as locator points. Templates for various multitrack configurations and tape formats can be set as preferences, so that you only need to enter the actual data.
The to do module reminds you of tasks and events. Reminders can be set to pop up when StudioEase (or your computer) is started. Special features include automatic changing of priorities as the deadline approaches, automatic renewal (weekly, monthly, quarterly, or yearly), and chaining of items.
The messages module provides a handy way to exchange short notes among studio personnel. Messages can be replied to in an email-style format (with or without quoting). In addition, messages can be checked automatically when StudioEase (or your computer) is started.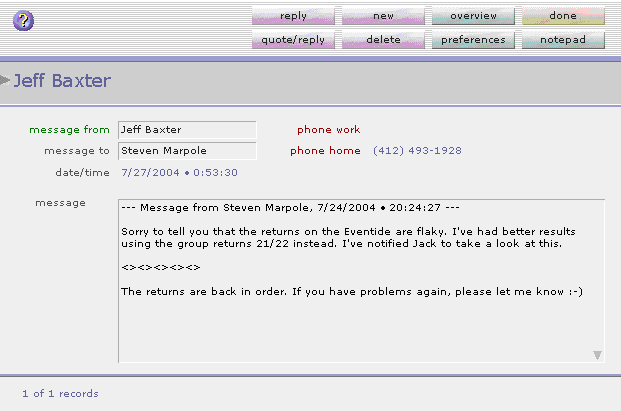 Several more goodies are included, such as a planner which lets you print booking information for any number of studios, and a notepad which is accessible from anywhere within StudioEase.
Last, but not least, StudioEase features complete, context-sensitive documentation. Help texts can be printed for each screen, each module, or as an entire reference manual.
---

Clean Award from Softpedia